- -
http://situs.opi.lipi.go.id/isac2020/
» Poster
Dear colleagues,
Continuing the good success of previous fifth symposium held in October 2019, the organizing committee is pleased to announce the 6th International Symposium on Applied Chemistry (ISAC) 2020 with a theme:


'Natural Medicine and Nutraceutical'
The 6th ISAC 2020, which will be held on November 18th-20th 2020, is the 6th scientific international symposium co-organized by Research Center for Chemistry, Research Center for Biotechnology, and Research Unit for Natural Product Technology from Indonesian Institute of Sciences (LIPI).
While the circumtances prevent us to hold our flagship meeting in person due to the impacts of COVID-19 and to support measures to contain the spread of coronavirus, the organizing committee are committed to delivering virtually the symposium to the widest possible audience through online event (Webinar).
The goal of this webinar is to make international online events as safe as possible from public health risk of the COVID-19 with technical support to host the event. Therefore, we warmly welcome all the scientist and scholars from all over the world to take a part and deliver their ideas by a safe and successful event.
The conference's topic covers natural medicine and nutraceutical, and the topic of interest include but are not limited to the followings:
Natural product and traditional medicine
Pharmaceutical chemistry
Pharmaceutical technology and drug delivery system
Analytical chemistry and chemical engineering
Food technology and functional food
The accepted paper will be considered for publication in IOP Conference Series: Materials Science and Engineering indexed by Scopus.

As Organizing Committee of ISAC 2020, we cordially invite all the Professors, researchers, scholars, and industry delegates to take this opportunity to exchange and share their experiences and research result on all aspects of natural medicine and nutraceutical, as well as to initiate international collaboration among participants.

We look forward to virtually connecting with you this year. Keep The 6th ISAC 2020 on your calendar for November 18th-20th for the potential kick off of this ongoing virtual connection symposium.




Best wishes,
ISAC 2020 Organizing Committee





---
Keynote Speakers
Prof. Dr. Muhammad Iqbal Choudhary
International Center for Chemical and Biological Sciences
University of Karachi
Pakistan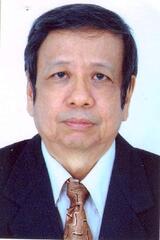 Prof. Dr.rer.nat. Gunawan Indrayanto
Faculty of Pharmacy
Universitas Surabaya (UBAYA)
Indonesia
Dr. Ambara Rachmat Pradipta
Department of Chemical Science and Engineering
Tokyo Institute of Technology
Japan



Dr. Nilesh Nirmal
Institute of Nutrition
Mahidol University
Thailand
Prof. Dr. Nina Artanti
Research Center for Chemistry
Indonesian Institute of Sciences
Indonesia



Assoc. Prof. Nurul Huda
Faculty of Food Science and Nutrition
Universiti Malaysia Sabah
Malaysia
---